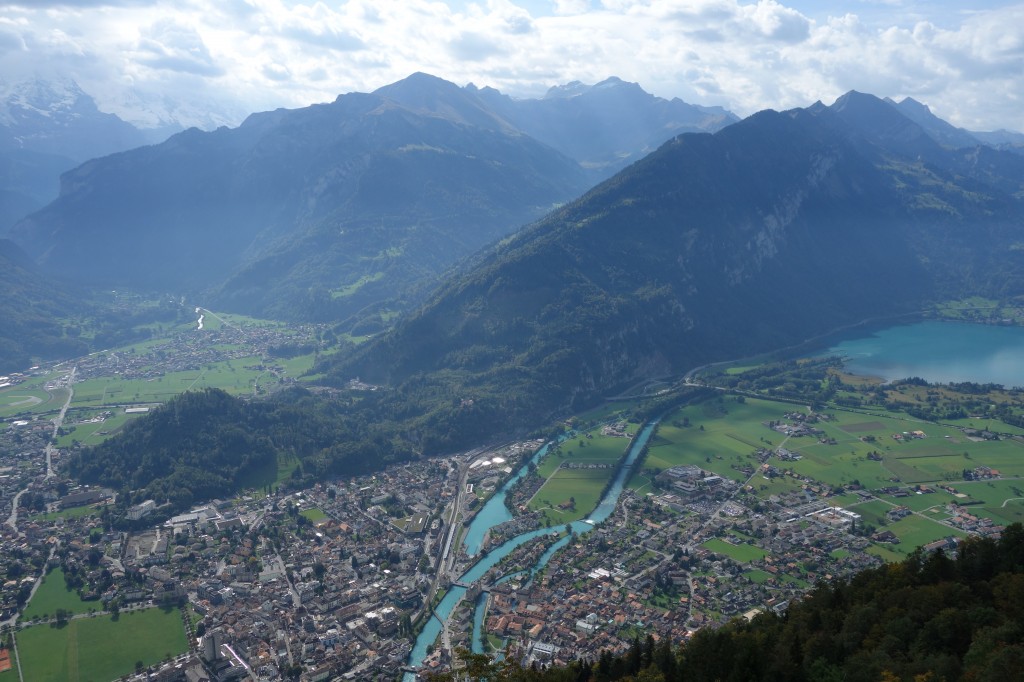 WOW- I cannot BELIEVE that it has been 3 weeks, ALREADY. I knew this trip was going to FLY by, but this- this is ridiculous…
Oh well- guess that means I'm having fun… LOADS of it. 🙂
Okay- So right now, I'm on a bus from Split to Zagreb, with about 5 hours to get caught up, so that's right folks, it's time for the 'First 3 Weeks in Europe Whirlwind Recap.' Get excited!
So, I landed in Milan 3 weeks ago, caught the airport train to the Milano Centrale train station, and then had to HUSTLE to make the connecting train to Switzerland. Picture me, backpack and daypack fully loaded, hustling through the crowded train station, hunting for the ticket office 3 floors down, only to get there and find massive lines. I knew I didn't have time to wait, so over to the self-serve kiosks it was. Somehow, I figured out how to get a ticket to Spiez in Switzerland, the machine actually took my credit card, and it even printed a receipt for me. Thank you, Jesus! With minutes to spare, it was a sprint back up the escalators to the train platforms, and then a mad dash to the train, running/yelling/waving like a maniac to the platform conductor, trying to get him to hold the train. I made it- with about 15 seconds to spare- and then collapsed in the luggage area, panting and sweating like I had just finished 25 windsprints… Good times! I'm sure everyone else thought I was crazy… But, I was okay with that- I was headed to SWITZERLAND!!! Eventually, I caught my breath, stowed my bag, found my seat, and settled in for the 2 1/2 hour ride to Spiez.
(Quick sidenote- the bus is currently driving through central Croatia, and all the leaves on the trees are changing… Fall in Europe =  BEAUTIFUL.)
It was an awesome train ride up into the Alps- soaring peaks, small mountain towns, topaz colored lakes. I met a couple of other travelers on the train, we were all headed the same way, so we switched trains in Spiez, and 30 minutes later, I was in Interlaken.  It didn't take me long to find Sebastian; not much has changed since we lived in New Zealand- he's still one of the biggest guys I've ever met. He shouldered my daypack, and we headed over to his house to drop my stuff. Just walking through the town of Interlaken, I could tell it was going to be a great stay…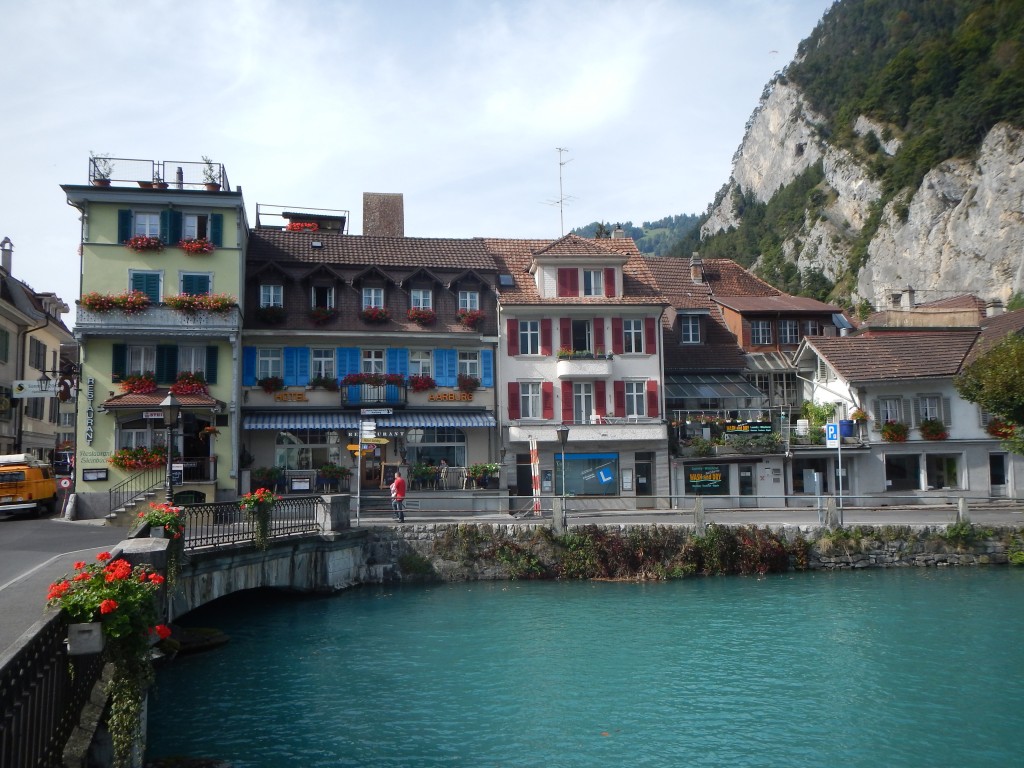 Interlaken is AWESOME- very similar to Queenstown, New Zealand, but somehow even more beautiful. Towering peaks and jagged ridges guard the town, with lush green slopes pouring down into the surrounding valleys. The two lakes on either side of town sparkle in the mountain sun, shimmering that spectacular glacial blue unique to alpine lakes. Cafes, shops, restaurants, and outdoor activity centers line the streets, with locals and tourists milling about, going this way and that. The architecture is distinctly Swiss- traditional storefronts and awnings, along with historic bell towers and quaint little homes. Sebastian's house itself is over 100 years old- renovated, of course- but it still maintains its historic charm. It is a beautifully 'Swiss' town.
Seb and I had a great time in Interlaken. He was home on leave from Kosovo, where he is currently stationed with the Swiss Army. We stayed at his parents' house, so I got to know them a bit through fits of laughter and broken English. They actually speak English very well- a lot better than my Swiss-German… HA! Unfortunately, Seb had a dislocated disc in his back, and that had him gimping around like an old man for most of my visit. We were meant to go canyoning, maybe so some downhill mountain biking, etc., but he was pretty limited due to the bad back. Still, he sucked it up for a couple of days, and we went on a couple of spectacular hikes, went swimming in the lake, and had a great time catching up. Much like the Tilleys, Sunday was 'Family Fun Day' at the Blaser household- I got to meet Seb's sister and her 4 kids, play an epic game of Swiss family-style ping-pong, and go for a ride in Seb's Dad's legendary party bus. It was a great trip, for sure…
Come Monday, I was back on the train to Milan- a lot less drama this time- and headed back to Italy. Randomly, my brother-in-law Shaun was in Milan for a work conference, so I was set to meet up with him at his hotel when I got into Milan. Train to Milan, taxi to the hotel, key at the desk- too easy! Shaun was headed out to dinner with is co-workers, so I did my own thing, and called it an early night- I was pretty tired after the weekend in Switzerland…
I spent the next two days in Milan exploring the trendy city, visiting the famous Duomo, climbing the church's terraces, and taking a day trip to Lago Como- a beautiful lake about an hour and a half north of Milan in the foothills of the Alps. Lago Como was really cool- it's a holiday/resort area in northern Italy, full of traditional little towns and villages. There are several options for boat trips on the lake, each stopping at different towns along the way. I ended up buying a ticket to the town of Belaggio, wandering through its narrow alleys and stairways for the afternoon, and then caught the bus back to Como to take the train back to Milan. And no, I didn't bump into George Clooney- apparently he has a house in the area…? The night ended with a feast at a restaurant in Milan with Shaun and his co-workers- great pasta, Italian wine, and that Italian after-dinner staple- GRAPPA. Wow- you've gotta be careful with that stuff, and don't drink it around an open flame…
After Milan, I was on the train to Resana, a small town in Veneto, about an hour outside of Venice. My friend Marianna- an Italian girl I met while working Syndey- was getting married, and had invited a bunch of us from that summer in Australia to help her celebrate. Hmmmmm… An Italian wedding, in the Italian countryside, celebrating with an Italian friend, at a party FULL of Italian food and Italian wine? Are you serious??? That's my version of Heaven on Earth! Needless to say, I was EXCITED on the train from MIlan…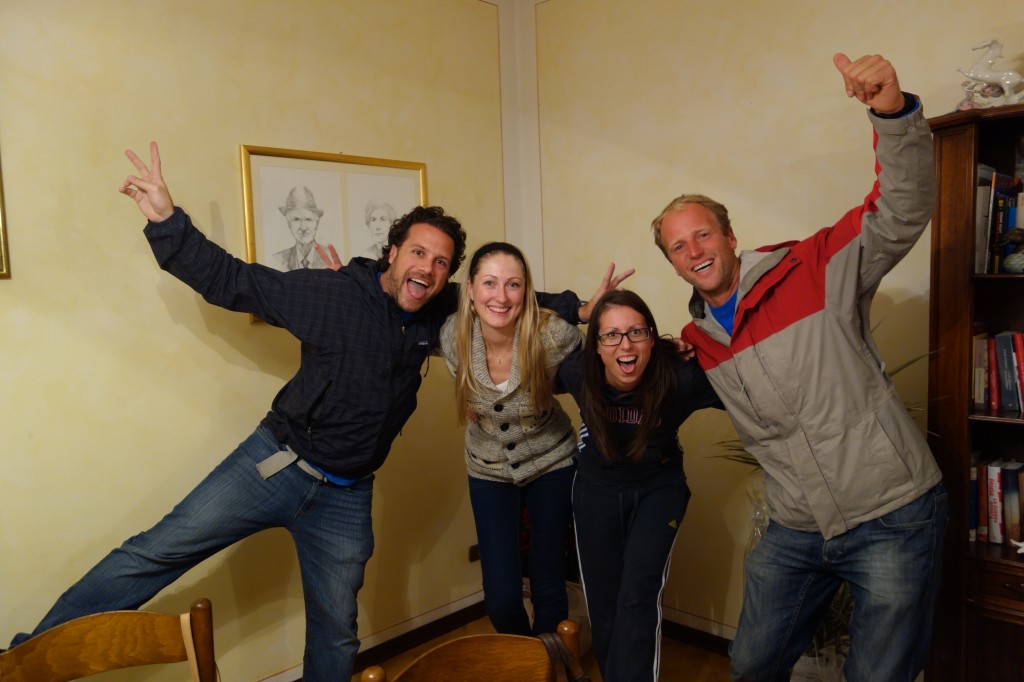 I got to Resana without any issues, followed Marianna's directions EXACTLY, found her building no problem, and was all excited for a happy reunion… All I had to do was ring the buzzer for #7, and wait for her smiling face to appear. Buzzzzzzzzzz… 'Si?' 'CIAO, MARIANNA! Come stai??' I said with a grin… 'Que?' came the response. Not what I was expecting. 'Marianna- it's Nick! I'm here!!' 'Que?' Leaning closer to the speaker- 'MARIANNA- it's NICK…' 'Que?', followed by some string of rapid Italian that I didn't exactly pick up on… Uh-oh. Obviously not Marianna. Okayyyyyyy… Now what? I knew I was in the right place- it was unmistakable. 'Salmon-colored building, right across from the train station. Apartment #7.' I was a bit early, and she had said she would meet me at the train station when I was due to arrive, so my first instinct was to head back to the train station and look for her there. Sure enough, as soon as I started walking back, a tiny black EuroCar sped past me, with a familiar face gaping out the driver's side window. MARIANNA! I was saved… 'Niiiick! You're EARLY!' she said, jumping out of her car and hurrying over- she was just getting home from having her nails done for the wedding, of course. Through hugs and smiles, I told her I had caught an earlier train, and that the person in #7 wasn't too happy with me. 'No worries, maaaaate! Welcome to Resana!' Marianna- that girl is TOO FUNNY! We headed up to her apartment, where I got to meet Daniel, her fiancé, and Mimi, his other girlfriend- a yellow parakeet-looking bird that in all seriousness rules the roost. I've never met a more demanding bird- food, music, kisses, her mirror- that bird gets what she wants, when she wants it. Marianna admitted to being a bit jealous of her…
The week in Resana was so much fun. Being there for a couple of days before the wedding, I got to meet all of Marianna's and Daniel's families, help out with some of the arts and crafts Marianna was finishing up for the reception, spend some quality time with the rest of the Australia crew, and get on Mimi's good side… Ha! It really was a week FULL of cool experiences- sitting around the MASSIVE table at Marianna's childhood home, her entire family there with us speaking Italian a million miles an hour, chowing down on pizza, pasta, and homemade wine; staying at a tiny Bed&Breakfast in the Italian countryside, chatting with the elderly owner in broken Italian, Spanish, and English, and somehow getting home every night through the tiny country roads; being at the wedding, held in a BEAUTIFUL church in Trebaseleghe, with all of the friends and family; celebrating at the reception, singing 'Born in the USA', and eating more Italian food than I thought was humanly possible; going to the crazy 'AfterParty', witnessing countless uniquely Italian wedding traditions, and dancing the night away; strolling through the streets of Venice at midnight, having the entire city to ourselves, and getting lost with the locals on the way back to the car; staying at my friend Carla's place, making homemade pizza, and getting an insider's tour of the REAL Venice… WOW. What.a.WEEK. It was so great, and definitely an experience I will always remember.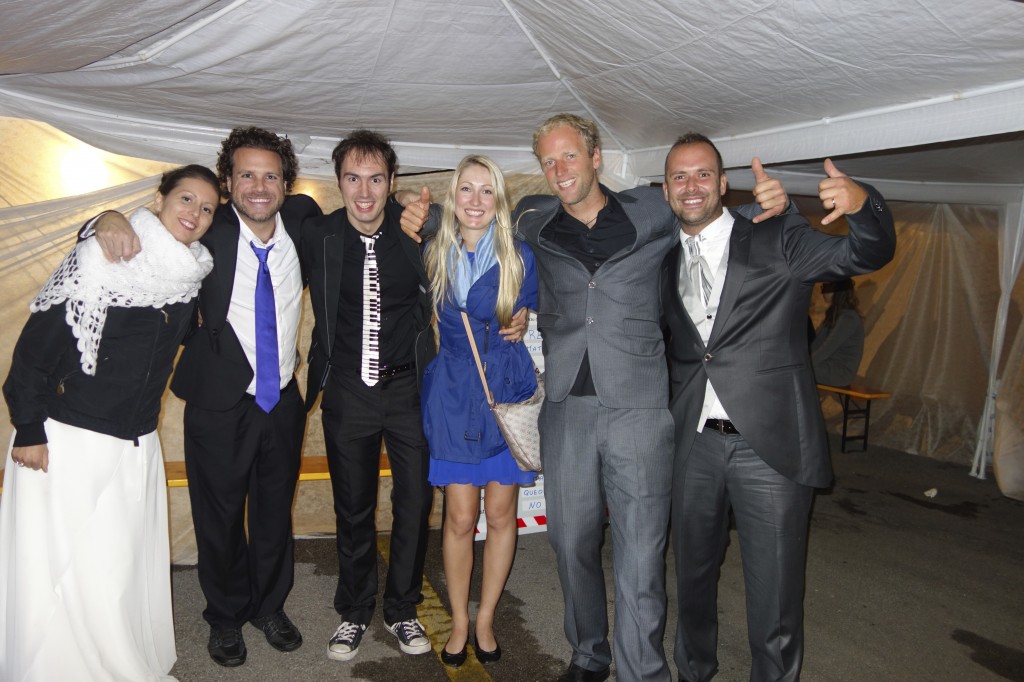 Well- it was raining when I left Split this morning, but now it's bright and sunny in Zagreb… We're pulling into the city, so it looks like I'll have to get caught up on Croatia later on. Right now, it's time to hoist the backpack, break out the map, and figure out how to navigate the Croatian capital… Zagreb- HERE I COME!!!! Wish me luck!
Stay tuned- there's more to come…