The Coogee-to-Bondi Coastal Walk is simply a MUST DO when visiting Sydney. High bluffs rising vertically above the pounding surf, salty sea spray and majestic seagulls riding on the warm breeze, beautiful beaches, tidal swimming pools, and the endless expanse of blue that is the Pacific Ocean spreading to the eastern horizon- it is more than just beautiful scenery- the Coastal Walk is an amazing, uniquely 'Sydney' experience.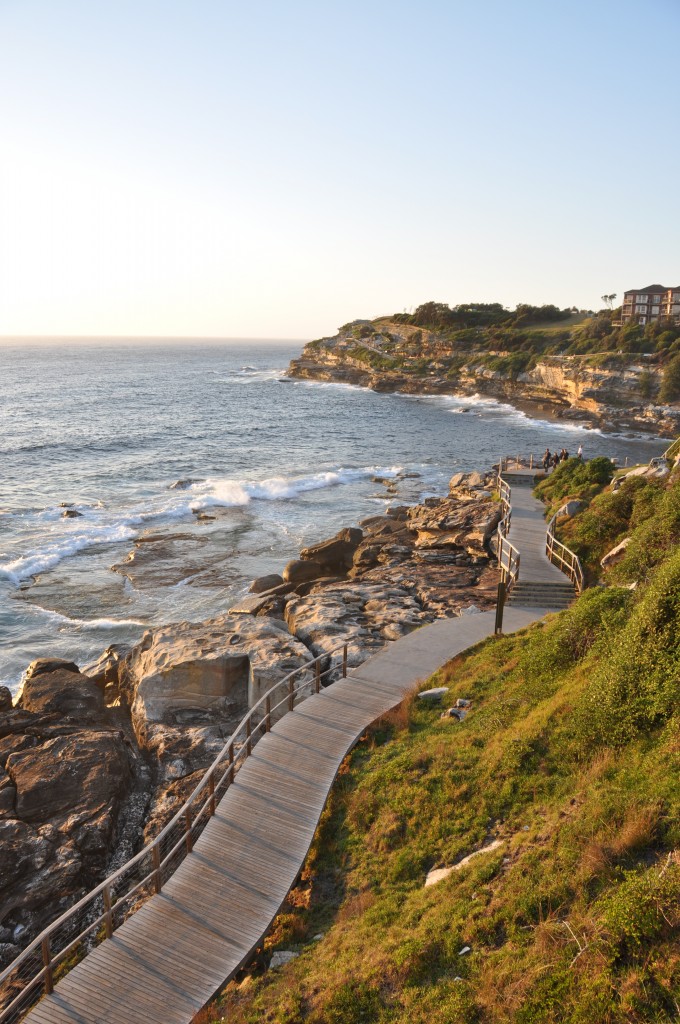 To be honest, it doesn't matter which direction you go- Coogee to Bondi or vice-versa- the scenery is constantly changing along the 6km (Roughly 3.75 miles) trail, and the view never gets boring. Bronte, Tamarama, Clovelly, Gordon's Bay- one minute you're standing barefoot in the golden sand of a secluded neighborhood beach, wondering how such a picturesque spot failed to make it into the guide books, the next you're climbing a path up onto 100-foot cliffs, the surf roaring as it crashes into the rocks below. Grab a sandwich at a beachside cafe, or an ice cream from one of the Surf Clubs' concession windows. Take notice of the locals walking their dogs, or the more athletically-inclined joggers taking on the trail with gusto. On the weekends, groups of Sydneysiders will be out en masse, having picnics and bbqs all along the path. Watch out for the surfers in their wetsuits, hurrying down the paths and out across the beach, paddling their boards out into the sea, anxious to get on the waves as quickly as possible. There is so much going on, it is almost impossible to take it all in…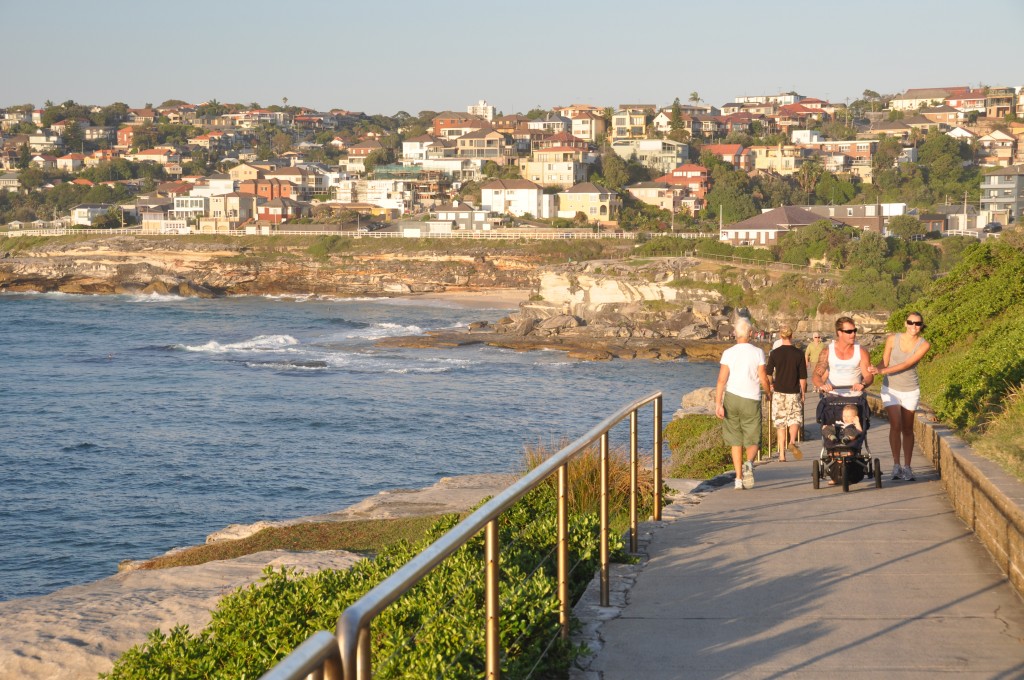 Power through to get your blood pumping, or take it easy and enjoy the scenery. You will notice numerous people along the way that are relaxing on a bench, laid out on a patch of grass, or even perched on a precarious outcropping of rock, reading a book or taking a snooze. It is easy to become mesmerized by the rhythmic swelling and powerful pounding of the surf against the rocks, eons of erosion and shore-sculpting unfolding before your very eyes. There are sections along the walk that are quiet and peaceful, and others that are loud and awesome- find a spot that suits you and take some time to soak it in.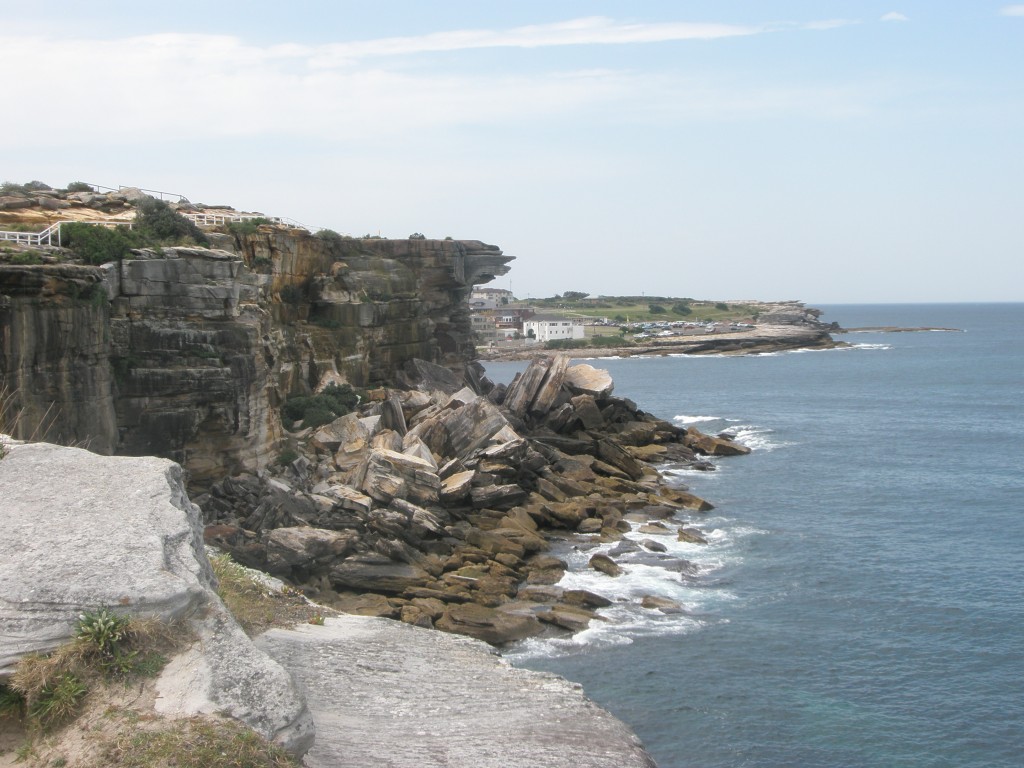 One of the most striking features of the coastal walk is that of Waverley Cemetery- a MASSIVE cemetery dating back to 1877 that sits right along the cliffs, overlooking the Pacific. True- many people may find cemeteries a bit solemn and ominous, but on a sunny day in Sydney, Waverley Cemetery is prime real estate, and those are some lucky souls to have found such an ideal final resting place. The sunlight glints off white marble headstones and large mausoleums, while sun-bleached crosses and pinnacles pierce the massive Australian sky. Narrow paths overgrown with grass and vines pass through innumerable grave sites, while bright splashes of color from fresh flowers contrast against the pale and weathered stones. It really is an incredibly unique place, one that is worth at least a quick walk-through. Truth be told, you really can't avoid it, as the coastal walk path passes right along the lower border of the cemetery.
Eventually, having passed by beaches and through parks, dodged joggers and dog-walkers, stood on the edge of cliffs and felt the sun and the sea spray on your skin, you will come to the end of the walk, be it in Bondi or in Coogee. Both are amazing seaside suburbs chock full of cafes, shops, restaurants, and the requisite pub or twelve. Grab some form of refreshment- a banana smoothie, some passionfruit yogurt, or an ice-cold Cooper's- and find a spot to sit down for a well-earned rest. Sit back, smile, and enjoy the beautiful scenery of Sydney at its best- sun, sand, sea, and surf. Ahhh, now that's the good life! The Coogee-to-Bondi Coastal Walk- it doesn't get much better than that!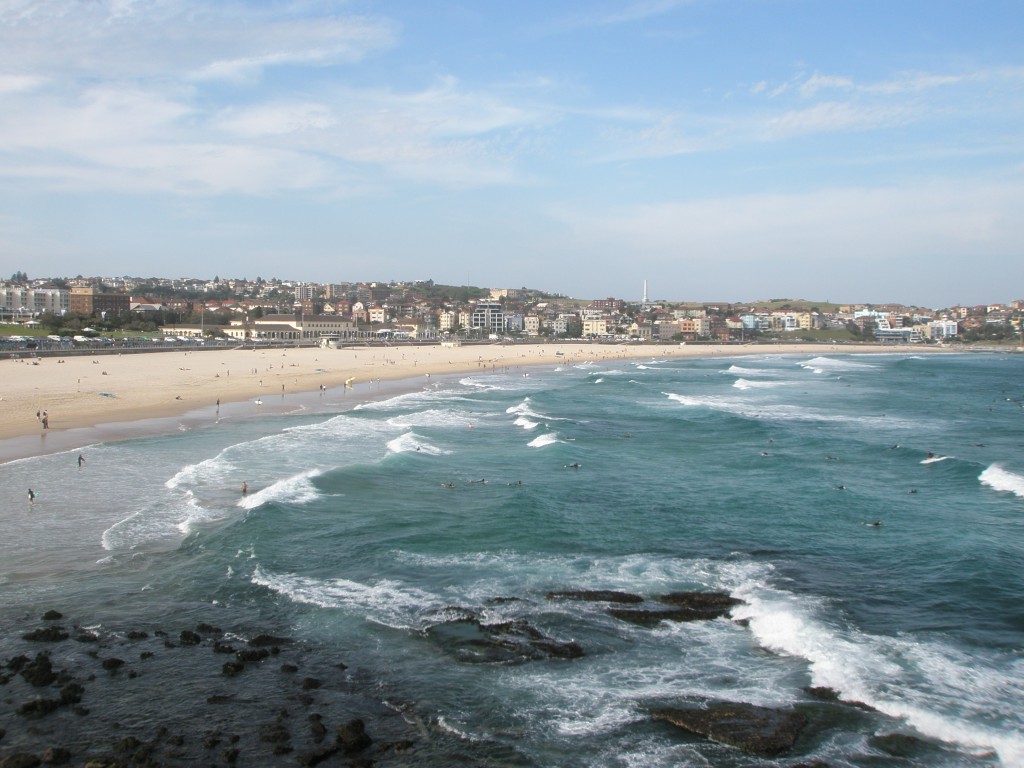 If you'd like to learn more about how to travel through Australia, click here.
Back to 'Australia'